Azbil's virtual power plant (VPP) business integrates and controls various energy resources using the automatic DR system
Azbil Corporation
Outline
Azbil Corporation has developed the automatic DR system, which utilizes a BEMS,* and is now expanding its VPP business, mainly targeting large-scale commercial buildings. As the share of renewable energy sources, whose output is not steady, increases, additional power is needed for purposes of adjustment. With its VPP, Azbil utilizes energy resources on the consumer side to create power for adjustment (etc.). This helps to reduce the use of oil and LNG, which have been the main sources of adjustment power.
Not only for commercial buildings, but also for various plants and factories, we use demand-response know-how to help reduce CO2 emissions by creating adjustment power, reserve capacity, and supply capabilities.
*A building energy management system.
Description
Most large-scale commercial buildings use a BEMS. By connecting a BEMS to Azbil's cloud system, the BEMS can be operated from the cloud. This is a proven method of connection, used for over 30 years by Azbil's BOSS-24™ integrated building management service. Azbil's cloud is connected to power companies via OpenADR, which is the preferred demand response protocol, allowing demand-response signals to be sent and received.
Demand response is applied according to a procedure agreed to in advance by the customer. Naturally, various types of equipment and devices are controlled to reduce the demand for power, but demand response is applied flexibly, both lowering demand to shift energy use away from peak periods by using thermal energy storage, by switching the energy source from electricity to gas, etc., and also allowing increased demand when appropriate.
Power for adjustment can now be created as needed by the supply and demand adjustment market and bilateral transactions, and can be used as a substitute for existing adjustment power sources.
Also, the parking lots of commercial buildings will increasingly be used by electric vehicles (EVs), so not only the reduction of contracted power consumption of buildings, but also the utilization of demand response is expected. Azbil has been selected to participate in the Ministry of Economy, Trade, and Industry's VPP project since fiscal year 2016, and is developing a system for implementing EV charge/discharge management using a BEMS and cloud computing. As a result, a V2B* system will be available, along with the ability to provide relatively fast adjustment power, which in the future we can expect to be used for primary adjustment with frequency adjustment.
These commercial buildings have a negawatt potential, and the potential will increase further as EVs become more popular in the future. Azbil intends to attract customers and expand its VPP business by promoting the advantages of demand response while checking market readiness and the needs of stakeholders.
Azbil is developing its energy business to meet various needs, and also to contribute to CO2 reduction through VPP utilization. Our activity includes:
   - Expanding the application of our know-how to various plants and factories
   - By utilizing consumers' energy resources, re-energizing transactions in the supply-and-demand adjustment market and storage markets, as well as in the wholesale electric market by taking advantage of market price differences
   - Meeting the need for adjustment power brought about by the expiration of the renewable energy Feed-In Tariff system, and the introduction of the Feed-In Premium system
   - Creation of adjustment power to avoid retail electricity supplier imbalances
*Vehicle to building
Supplementary information
Other Innovation Challenges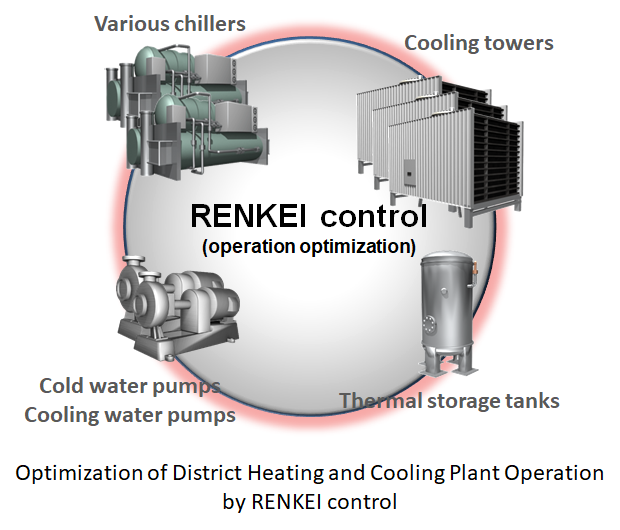 Reduce CO2 emissions globally by developing and disseminating RENKEI control technology
Azbil Corporation
Similar Innovation Challenges