Achieve 2050 decarbonization target with Net Zero Energy House!
Sekisui House, Ltd.
Outline
 In 2008, Sekisui House released our 2050 Vision (Decarbonization) that meant removing CO2 emissions from the entire life cycle of our houses by 2050. At the G8 Toyako Summit held in the same year, we constructed a Zero Emission House (with NEDO) that had negative CO2 emissions during the entire life cycle (CO2 emissions reduction by energy generation exceed CO2 emissions from construction to dismantling), and showed that a zero-emissions home can be a reality (1).
 To achieve decarbonization by 2050, in 2009 we launched our "Green First" range of houses which can reduce CO2 emissions by over 50% compared to 1990 levels (2). Furthermore, the Japanese national government announced a target that half of all newly built homes were to be net zero-energy house (ZEH) by 2020. In response, in 2013, we launched our ZEH model named "Green First Zero" (3). 87% of the new single-family homes built by Sekisui House in 2019 were ZEH (4). Going forward, we will aim to decarbonize by 2050 by further enhancing the performance of ZEH and expanding the types of zero energy buildings.
Description
Achievement goal in the challenge
 Similar to the UN's 1.5°C target, our goal is to achieve zero CO2 emissions over the entire life cycle of our houses by 2050. Our 2050 vision does not just target newly built detached houses, but covers all types of buildings, including apartments and condominiums, as well as existing houses.
 
Challenges to overcome in order to realize the challenge
 The CO2 emission rate during the life cycle of a house is the largest during occupation of the home (scope 3 category 11), and this will be reduced by promoting ZEH. In fiscal 2019, 87% of the detached houses we supplied were ZEHs, and the cumulative number of houses has reached 51,793 houses. However, we have only supplied around 800 zero-energy apartment housing units, so this is an area where more work is needed. The next largest proportion is CO2 emitted from manufacturing purchased materials. In construction, since the materials used vary from building to building and the supply chain is complicated, we believe that this reduction is an issue that should be tackled in cooperation with the entire supply chain. In this regard, we are also considering a mechanism in which the CO2 emission reduction efforts of supplier companies are reflected in the CO2 emission calculation of purchased materials.
 
Actual action
・In 2009, we developed and launched a "Green First" model that combines enhanced wall thermal insulation, energy-saving equipment, solar power generation, and fuel cells to reduce CO2 emissions by over 50% compared to 1990 levels.
・In 2011, we developed and launched the world's first "Green First Hybrid" which incorporates photovoltaic power generation, fuel cells, and storage batteries. This model is extremely disaster-resistant and enables people to live essentially normal lives during a power outage.
・In 2013, following the policy of the Japanese government to "standardize ZEH for new houses built in Japan by 2020", we developed and launched our zero-energy "Green First Zero" model  with further enhanced thermal insulation and energy saving.
・In 2017, we constructed the first all dwelling ZEH multi-family rental apartment building in Japan.
・In 2018, we constructed the first all-dwelling ZEH condominium in Japan.
・In 2019, we started "Sekisui House Owner Denki," which purchases surplus electricity from the solar power generation system installed in the owner's residence after the FIT system expires, and uses it for our corporate electricity consumption. It is expected that RE100 will be achieved by 2030.
・The target for 2022 is 90% ZEH ratio for new detached houses, 2500 ZEH apartment units/year, 540 ZEH condominium units, and 1250 houses/year renovated with enhanced insulation.
・By 2030, the target is to reduce CO2 emissions from business (Scope 1 and 2) by 50% and CO2 emissions from living (Scope 3 category 11) by 45% compared to FY2013 (SBT target).
・Achieve zero CO2 emissions in 2050.
Effects of greenhouse gas reduction
・The cumulative total of 51,793 ZEHs from fiscal 2013 to fiscal 2019 will reduce CO2 emissions by approximately 710,000 t-CO2.
Supplementary information
Other Innovation Challenges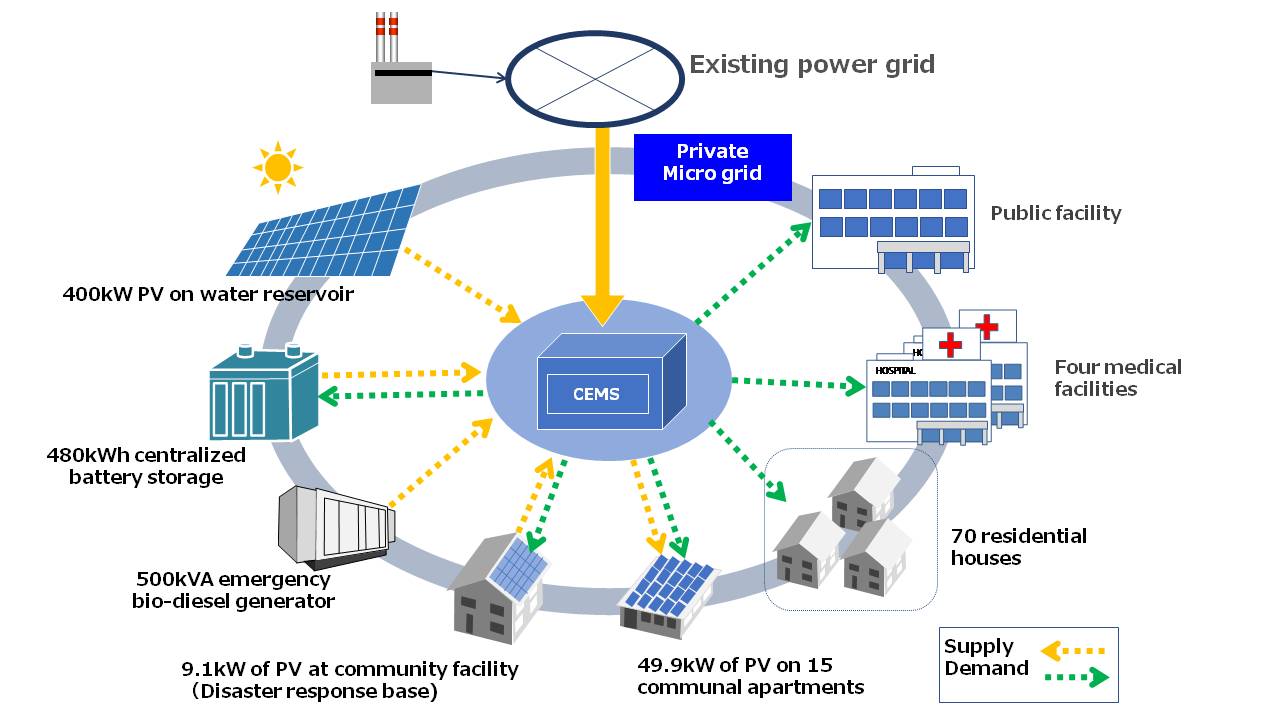 Distributed and self-sufficient Disaster Ready Smart Eco-town
Sekisui House, Ltd.
Similar Innovation Challenges