"Mitaka Data Center EAST" that has One of the Largest and Most Advanced Features in Japan while Achieving Excellent Environmental performance
NTT DATA Corporation
Outline
Our Mitaka Data Center EAST maximizes consideration of the environment and supports mission-critical backbone systems that underpin our customers' Digital transformation (DX)* efforts while helping to build a safe and secure social infrastructure. It is also equipped with one of the largest and most advanced environmental performance systems in Japan and was the first data center in the nation to receive Gold Certification under the U.S. Leadership in Energy and Environmental Design (LEED) certification system.
*Digital transformation:DX
Within the NTT DATA Group, the term "Digital transformation" is defined as "promoting the use of digital in ways that contribute to our customers' businesses. "Digital environments surrounding businesses are increasingly required to develop further and proceed to the next level because of market changes brought about by the drastic advancements in AI technology as well as the rapid increase in the number of IoT devices in today's world.
Description
Featuring the largest and most advanced equipment in Japan, Mitaka Data Center EAST brings together know-how amassed by NTT DATA in the construction and operation of numerous systems and data center facilities. It also incorporates AI, IoT and other advanced technologies and functions as an innovative service center that helps customers implement their DX strategies.
With a total floor area of around 38,000 m² (accommodating about 5,600 server racks), it is one of the largest dedicated data center buildings in Japan. Although the building can manage a heavy power load, it is environmentally friendly and takes advantage of clean energy options, which include wall-mounted air conditioning that enables outside air cooling, natural lighting in common areas and a solar-PV.
In September 2018, Mitaka Data Center EAST became the first facility in Japan to receive Gold Certification in the data center category under the Leadership in Energy and Environmental Design (LEED) certification system overseen by the U.S. Green Building Council.
To minimize the impact of environmental challenges, the center features an energy-efficient operational design and is in an area where the risk of floods, earthquakes and other disasters is extremely low. Its building structure is also earthquake proof, capable of withstanding big earthquakes (with a seismic intensity of 6 to 7). In addition, it is equipped with enhanced disaster-recovery functions, with power supplied by multiple substations and an emergency generator installed.
■Target of the challenge
Reduce 50% greenhouse gas emissions by 2030 through renewable energy, advanced energy conservation, and next-generation energy management.
■General Data Center Issues: Increasing Data Center Power Usage
As society moves toward DX (digital transformation) and cloud computing, increasing power consumption in data centers has become a social issue. In the Green Growth Strategy, energy conservation, high performance, and renewable energy in data centers are also issues.
■Action
NTT Data's Green Data Center ®, led by Mitaka Data Center EAST, plans to three actions in FY 2021 to take the green data center to the next stage.
1. Introduction and increase of renewable energy
The Dojima Data Center and the Shinagawa office building are scheduled to start introducing renewable energy in 2021.
At Mitaka EAST, we will also work to procure electricity derived from renewable energy, and aim for comprehensive energy utilization through cross-industry collaboration (see item '3').
2. Advanced energy conservation
Through joint demonstration experiments with IT equipment manufacturers, we have eased the setting of air conditioning temperature and humidity in the machine room by visualizing the operating environment of servers using IoT, etc., and conducted demonstration experiments to optimization without overcooling (reduction in cooling energy).
By visualizing the operating environment of servers using IoT, etc., the temperature and humidity settings of the air conditioning in the machine room have been adapted, and a demonstration experiment has been conducted jointly by hardware venders on temperature optimization (reduction in cooling energy) that makes maximum use of the durable performance of the latest IT equipment.
Based on the results of the demonstration experiment, we will promote the development of services for actual operation in order to reduce the power consumption of the entire data center including ICT equipment.
3. Next-generation energy management
Aiming for comprehensive energy utilization from procurement to supply and operation as a next-generation energy management data center through cross-industry collaboration.
From the results of these actions, we will work with other companies in the whole industry to standardize data center energy know-how in order to realize a carbon-neutral society.
Mitaka Data Center EAST
・Gross floor space: 37,650 m²
・Number of installed rack units: Up to 5,600 units
・Structure: By installing horizontal seismic isolation devices and vertical vibration control dampers in addition to the bird cage structure of its outer periphery and truss structure over the roof, its horizontal and vertical accelerations are decreased by some 80% and 40%, respectively.
・Power supply: Equipped with emergency power generators that can operate for 72 hours without refueling
・Electricity usage per rack unit: Capable of supporting up to 20 KVA per rack unit
・Network: Multi-carrier compatible networks pulled in through service tunnels (dedicated underground tunnels)
・Security: Conforming to FISC and ISO 27001 guidelines
・Annual CO₂ reduction effect from using solar panels (FY2019 result)
16,813kg
Supplementary information
Other Innovation Challenges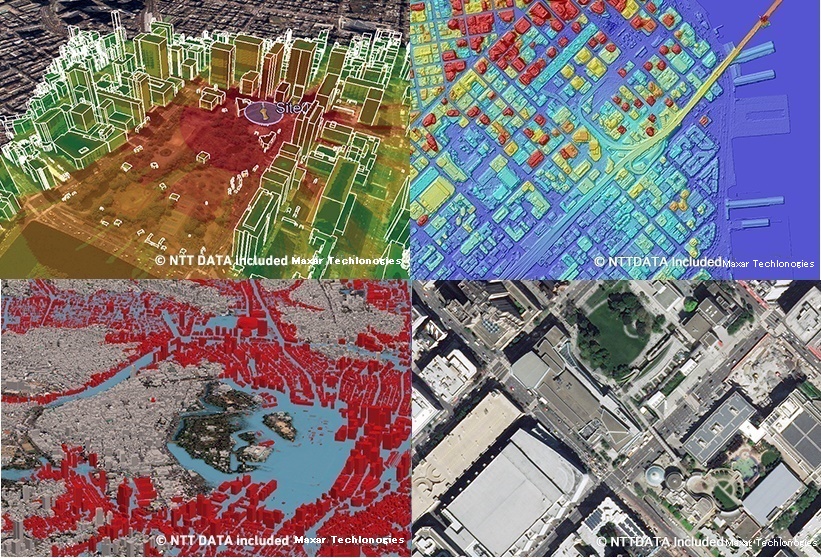 Resilience Enhancement with AW3D : Global High-resolution 3D Map
NTT DATA Corporation
Similar Innovation Challenges