Geothermal Power Generation
MITSUBISHI GAS CHEMICAL COMPANY,INC.
Outline
Mitsubishi Gas Chemical Co., Inc. (MGC) acts with partners to construct and operate geothermal power stations and supply geothermal electric power, a renewable form of energy.
MGC's geothermal development initiatives started when we received an inquiry from Mitsubishi Metal (currently Mitsubishi Materials Corporation) to jointly develop the geothermal business in the Sumikawa area of Kazuno City, Akita Prefecture, and we used our underground resource development technologies established for natural gas development, a predecessor business. Business started in 1981, and therefore, this year will mark 40 years in the geothermal business. Since the start of commercial operation in 1995, safe and stable operations have continued to the present day. Later, in Yuzawa City, Akita Prefecture, Yuzawa Geothermal Power Corporation was established through joint investment by Electric Power Development Co., Ltd. and Mitsubishi Materials in 2010,, and the Wasabizawa Geothermal Power Station begin commercial operation in May of last year, the first large-scale geothermal power plant to go online in Japan in 23 years. We also established Appi Geothermal Energy Corporation with the same partner in the Appi region of Hachimantai City, Iwate Prefecture and started construction last year.
Geothermal power generation, which utilizes geothermal energy unevenly located deep underground, is a challenging business that involves risks in exploration, development, and long-term stable production. MGC will continue to expand its geothermal power generation business by leveraging its accumulated technologies and human resources to contribute to expanding the supply of renewable energy, reducing CO2 emissions, and improving the energy self-sufficiency.
Description
There is a tremendous amount of thermal energy stored in the interior of the Earth (geothermal energy). Geothermal steam is used to identify sites where groundwater (hot water) heated by magma accumulates, and then a well is drilled to extract geothermal steam. Geothermal   electric power is generated by using the geothermal steam for power generation.
Japan has many volcanoes and ranks third in the world in terms of abundance of geothermal energy sources. However, the use of geothermal energy is not as advanced as other forms of energy and expansion is slow due to issues concerning the profitability of business and nature park. In recent years, however, expectations for geothermal energy have been rising, and with pressure for government deregulation, geothermal power generation has been actively expanding and spreading.
One of the foundations for this expansion has been technology for natural gas exploration and development, one of MGC's founding businesses. Although not as large as massive overseas oil and gas fields, natural gas is extracted and used in Japan in regions such as Niigata Prefecture. By using this technology, we discovered high-temperature steam accumulated under the Ou Mountains, drilled wells to extract that steam, and have been able to use it to generate electric power.
Unlike solar and wind power, geothermal power generation is not affected by the weather and can be used stably at all times. In addition, geothermal power is pure domestically-sourced power that does not rely on imports, unlike other forms of thermal power and nuclear power, offering advantages not available from other energy sources.
Yuzawa Geothermal Power Corporation K.K, which was established through joint investment by Electric Power Development and Mitsubishi Materials, began operation of the large-scale Wasabizawa Geothermal Power Station in Akita Prefecture in 2019. We also established Appi Geothermal Energy Corporation with the same partners in Iwate Prefecture, and a geothermal power station is currently under construction. We are currently surveying geothermal power sources in multiple regions in Japan. MGC is expanding the domestic supply of renewable energy, contributing to reducing carbon dioxide emissions and improving energy self-sufficiency.
MGC also engages in the development of energy businesses other than geothermal power. One example is the social implementation of high-efficiency natural gas-fired power generation. Such power generation uses natural gas, a fossil fuel, but compared to coal-fired power generation, carbon dioxide emissions are low, and we believe that this is a practical transitional technology that can be useful as an interim stage until zero emissions can be achieved. MGC is working with its partners to construct the Fukushima Natural Gas Power Plant, which will achieve the world's highest levels of electric power generation efficiency, in the coastal region of Fukushima Prefecture.
We are also participating in the development of carbon capture and storage (CCS) technology to recover carbon dioxide and store it deep underground.  There are high expectations that this technology will make significant contributions to the prevention of global warming.
Partner(s)
Geothermal power generation: Electric Power Development Co. Ltd.
Mitsubishi Materials Corporation
Natural gas-fired power plant: Japan Petroleum Exploration Co., Ltd.
MITSUI & CO., LTD.
Osaka Gas Co., Ltd.
Hokkaido Electric Power Co., Inc.
CCS: 33 companies in electric power industry, engineering companies, petroleum industry, and trading companies.
Supplementary information
Other Innovation Challenges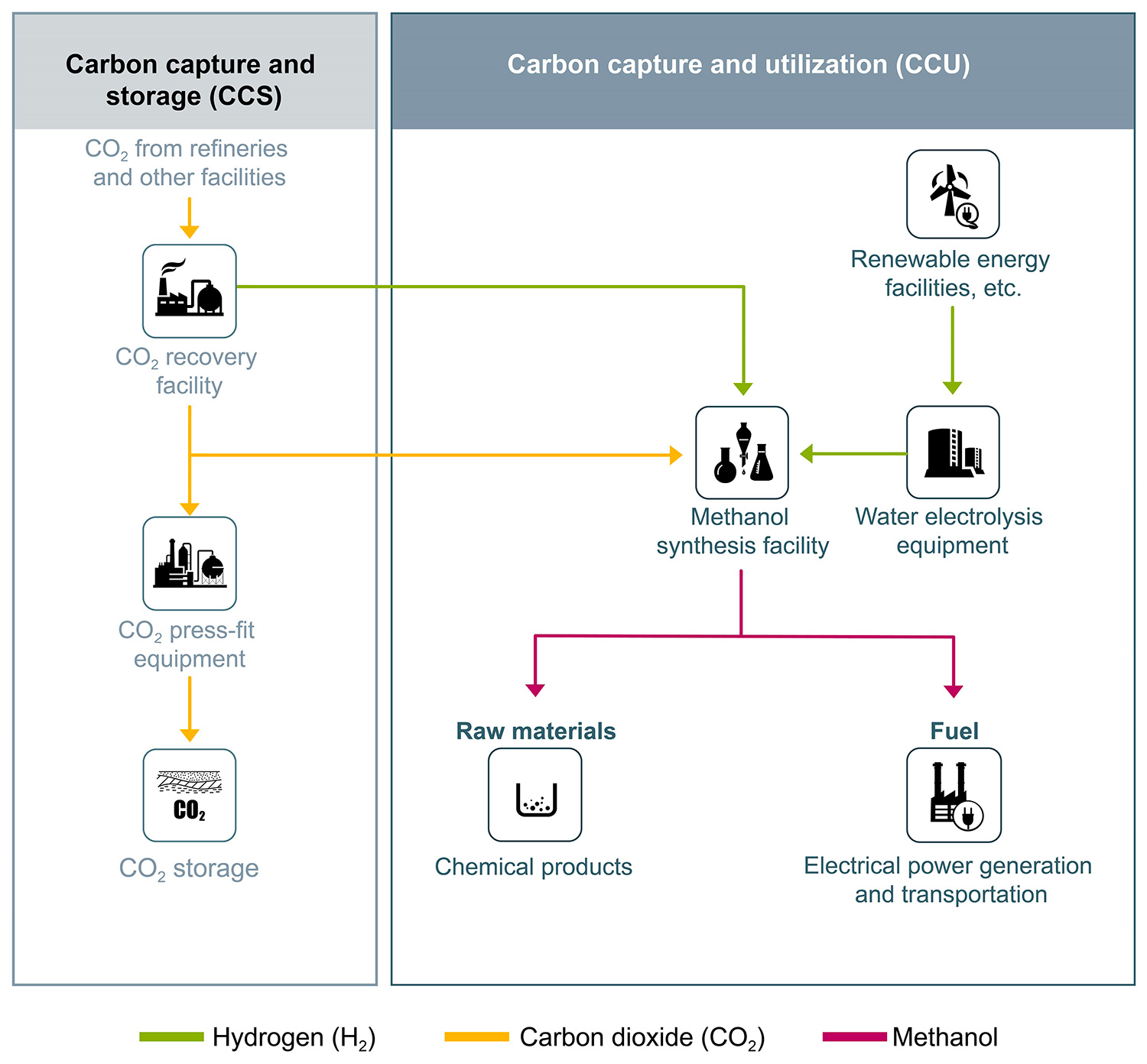 Carbon Recycling Methanol Business
MITSUBISHI GAS CHEMICAL COMPANY,INC.
Similar Innovation Challenges