Contribution to decarbonized society by utilizing unused energy with NTN Micro Hydro Turbine
NTN Corporation
Outline
We will take on the challenge to spread the "NTN Micro Hydro Turbine" that we have developed, and contribute to realizing a decarbonized society and strengthen resilience.
"NTN Micro Hydro Turbine" generates electricity by simply installing it in the existing water channels. By utilizing unused domestic and overseas water channels and water sources, electric power can be supplied to non-electrified areas. Also it can be used even in the event of a disaster. In Japan, consumers can make money by selling electricity and reduce the burden on maintenance and management costs of agricultural water supply facilities. This product contributes to the promotion of agriculture and agricultural village.
Description
As one of the new businesses, NTN is developing renewable energy products and business.
One of the products is a micro hydroelectric generator.
Introducing "NTN Micro Hydro Turbine", we can convert unused water energy into electricity, thereby contributing to reduce CO2 emissions and strengthened resilience.
(1) Supply electricity in areas where electric power infrastructure is not developed.
In Japan, this product can supply electricity in mountainous areas and remote islands. Overseas, the product can supply electricity where electric power infrastructure is not yet developed, such as Africa, Asia, and South America.
(2) Strengthen regional resilience as a power source that can be used even in the event of a disaster.
Improve regional security and safety by utilizing various types of power sources in the event of a power failure due to disasters.
(3) Improve the quality of life in agricultural community by utilizing the product in agricultural facilities.
Using agricultural water distributed throughout the country. This product can supply electricity to the facilities using agricultural water such as agricultural facilities and water pumps and also reduce the burden of maintenance and management costs for various facilities by selling electricity, and further promote agriculture.
The world's first water-flow type "NTN Micro Hydro Turbine" uses original technologies as below,
① Highly efficient power generation that does not relieve water energy:
Unique hydro-turbine blade (hereafter, blade) shapes converge water force on the blade tip to suppress energy-loss due to vortex generation.
② Increase power generation with multiple units. (in series and parallel arrangement)
③ Installation costs and labor are minimal: just fix the beam to fit the width of the waterway.
④ Realize low friction losses by using low-torque bearings that NTN has cultivated over many years. Achieve minimum environmental impact by using food machinery grease.
⑤ Dust-removal brakes is standard equipment to remove foreign object tangled with wings.
⑥ Adopt optimum electrical control system according to independent power source and grid connection.
⑦ Simple operation mechanism "Easy lifter" makes it easy to pull up the wing.
1. Goal of this challenge
・Spread "NTN micro hydro turbine" in Japan and overseas to reduce CO2 and enhance regional resilience.
2. Issues to be overcome to realize this challenge
・In Japan: Further relaxation of regulations and permission for the use of agricultural  water, and construction of business models.
・Overseas: Collaboration with trading companies and with other products that utilize independent power sources (e.g., monitoring equipment), and build a business model according to each region.
3. Concrete action
・In Japan: Promote installation of this system to agricultural water, industrial water, and conventional head-type hydroelectric power plants.
・Overseas: Promote the product PR and installation in cooperation with trading companies. Promote business according to local circumstances.
4. Effects of achieving this challenge
・Cumulative total sales of NTN micro hydro turbine: 100,000 units by 2050
・CO2 savings through the introduction of NTN micro hydro turbine(*1) 400,000 tons
(* Estimated values based on representative points)
Supplementary information
・2018 Nikkei Global Environmental Technology Awards, Award for Excellence
・2019 Fiscal 2019 "New Energy Awards", New Energy Foundation Chairman Award
・May 9, 2018 World Business Satellite (TV TOKYO): NTN's new Challenge, Utilize bearing technology in hydroelectric power generation!
・January, 2020 Japanese Government Foreign Public Relations Magazine "Highlighting JAPAN"
・NTN Website
https://www.ntn.co.jp/japan/products/natural_energy/micro_hydro_turbine.html
Other Innovation Challenges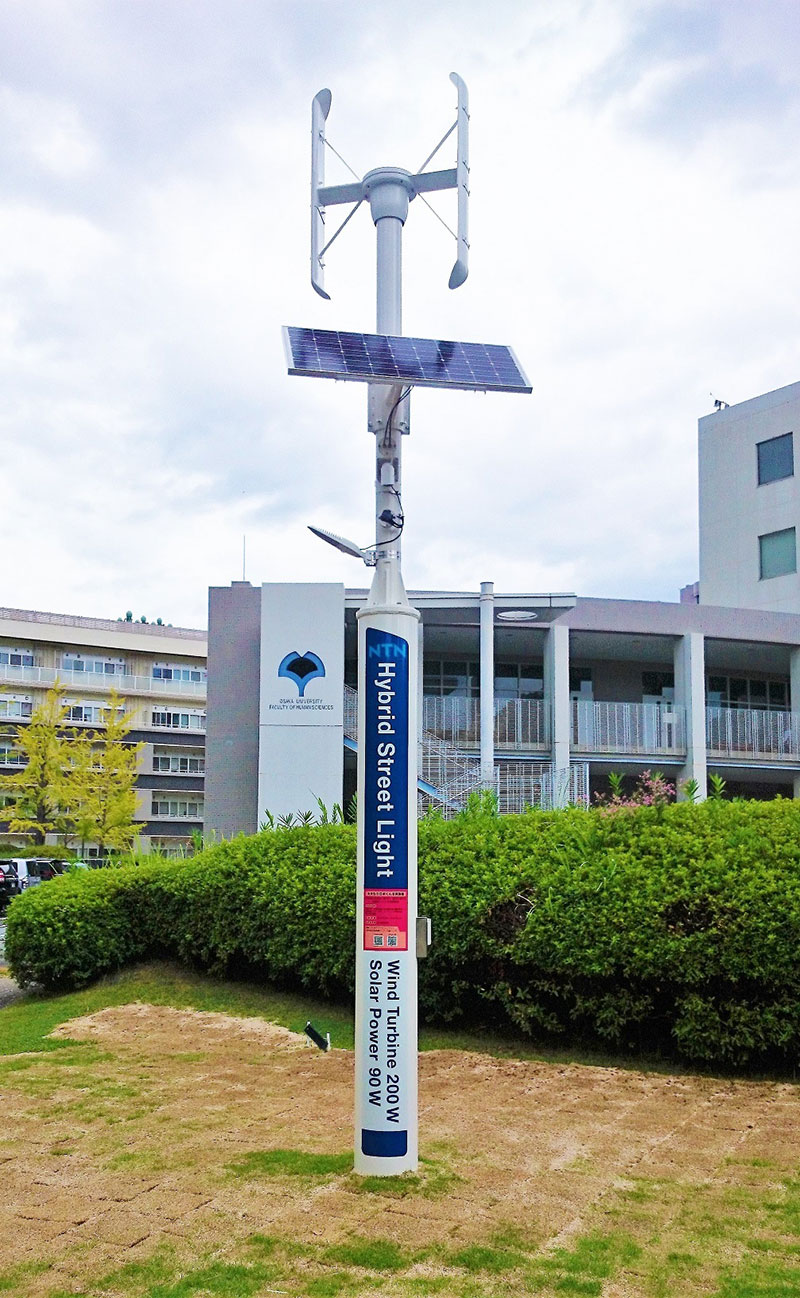 Development of strengthening national resilience with "NTN Green Power Station"
NTN Corporation

Realization of Net-zero Carbon Society by "N3 N-CUBE"
NTN Corporation
Similar Innovation Challenges