Reduce CO₂ by using Hydrogen for gas for cutting steel
Mitsubishi Steel Mfg. Co., Ltd.
Outline
As for steel industries where are most emitting CO₂ most in all industries, it is effective to utilize Hydrogen as alternative energy.
Steel Making plant in Mitsubishi Steel Muroran Inc., which is our main business, is producing Casing Bloom from melted 1,600 Celsius Molten steel in Continuous Casting machine. Such Casting Bloom are cut by Gas cutting machine to specified length as final products, and such combustion gas is LPG. 
Our target is to Zero emission of CO₂ through changing this LPG to Hydrogen. 
Description
Cutting machine using hydrogen as combusting gas is already in practice, however, not for the products with temperature after continuous casting process, so there not enough information and knowledge about possibility of adopting hydrogen cutting into cast bloom. It would be necessary to research and develop new technology for hydrogen cutting through practical testing.
Mitsubishi Steel Muroran has cutting machine for getting samples other than for normal operation. That machine is not always used, so we are going to develop new technology by using this equipment and get know-how from available equipment, then spread to other relatively large equipment, ex. heat treatment furnace.    
Points of development are as follows :
(1) To keep cutting quality same or better than LPG
  Hydrogen is fast combustion speed, so it is expected stretch of flame would be short.
  Uniformity in align to thickness direction shall be realized.
(2) Cutting speed
  Capability of equipment shall be same or better than current one. Specification and condition of operation shall be investigated.
(3) Cost reduction
  Hydrogen is higher price at this time, so it is essential to find out appropriate cutting condition in order to reduce amount of hydrogen as less as possible
Partner(s)
Mitsubishi Steel Muroran Inc.
Other Innovation Challenges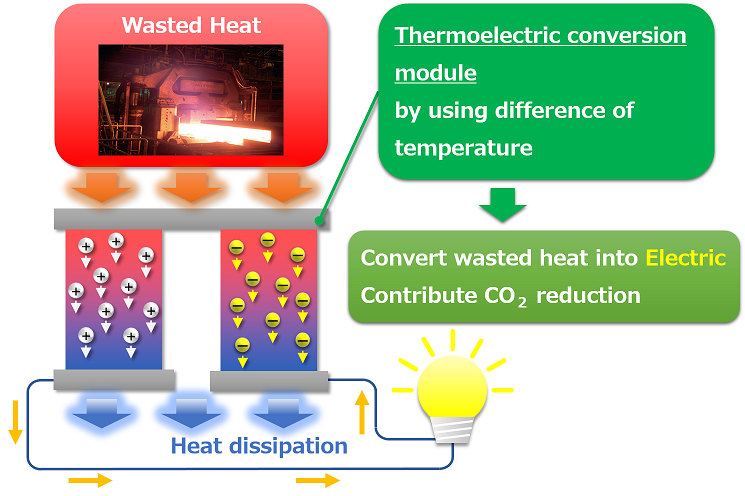 Utilization of wasted heat by thermoelectric materials
Mitsubishi Steel Mfg. Co., Ltd.
Similar Innovation Challenges