Research and development of Calcium Extraction from Various Calcium-containing Wastes and CO₂ Mineralization Technologies
Sumitomo Osaka Cement Co., Ltd.
Outline
A method of mineralizing carbon dioxide in the form of carbonate such as calcium carbonate is called mineralization technology and is attracting attention as one of the effective technologies in CO₂ Capture, utilization, and storage (CCUS).
According to "Carbon Recycling Technology Roadmap" issued by the Ministry of Economy, Trade and Industry's (June 2019), CO₂ mitigation would be accompanied with carbon recycling by means of the mineralization, artificial photosynthesis, methanation into fuel, etc.
Sumitomo Osaka Cement has been also working on CO₂ mineralization.
Description
In order to mineralize CO₂, calcium-containing materials are required. While basic minerals such as basalt is known as a natural calcium-containing material, we focus on waste that has not yet been effectively used.
We have investigated efficient calcium recovery from various calcium-containing wastes such as waste incineration ash, slag, waste concrete, ready-mixed waste, and biomass ash by CO₂ mineralization, and have developed a basic technology for efficient carbon recycling.
Calcium is extracted from various calcium-containing wastes, and CO₂ is directly used without regeneration after CO₂ capture from combustion exhaust gas, and recovered as calcium carbonate by mineralization. The recovered calcium carbonate will be effectively used as a cement bulking and raw materials. We are not only aiming to recovery the products with good material properties but also considering utilization of them as higher value-added materials, such as fillers.
In addition, we plan to make effective use of the residue after calcium extraction in the cement industry, where the use of the waste materials as fuel is advancing.
An energy-saving and resource-saving carbon recycling process is established for efficient calcium extraction from calcium-containing waste. We keep working on development of the innovative carbon recycling process.
Partner(s)
This R&D has been collaborated with Yamaguchi University and Kyushu University on the NEDO project.
Supplementary information
This project is being implemented as a consignment project of the New Energy and Industrial Technology Development Organization (NEDO).
Other Innovation Challenges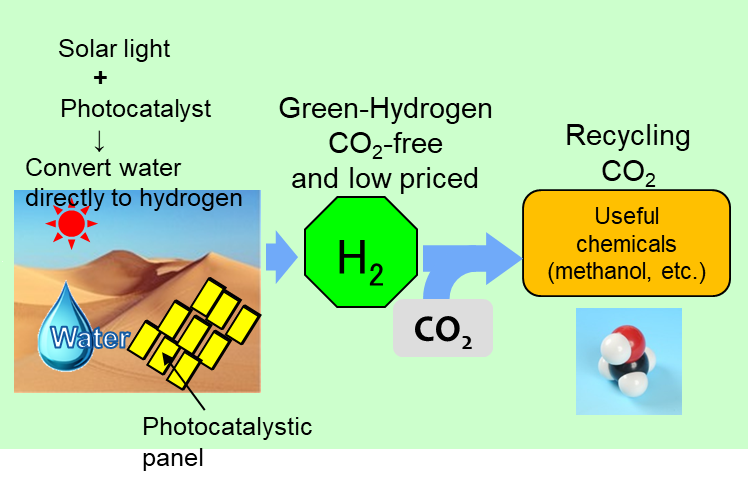 Production of green hydrogen by photocatalyst
Sumitomo Osaka Cement Co., Ltd.
Similar Innovation Challenges