Weight reduction of olefin bottles using foam extrusion blow molding
Toyo Seikan Group Holdings, Ltd.
Outline
The 3R (reduce, reuse and recycle) initiative has been spreading in order to lower environmental burden of plastic packaging containers, while a movement toward a circular society where recycled materials from used packages are reused for new packages is gaining momentum. Among various kinds of packages, olefin bottles are used for a wide range of products including food and household products, but are difficult to be recycled compared to beverage PET bottles, as their applications and materials vary considerably. Consequently, environmental activities with respect to olefin bottles focus mainly on "reducing."
Although efforts to use less plastic are continuing by reducing bottle weight with shape changes and material improvement, it is now getting very difficult to obtain additional effects from such efforts. To tackle this issue, we are seeking to develop weight reduction technology for olefin bottles with microcellular foam extrusion blow molding using nitrogen gas blowing agent. With this technology, we aim to reduce carbon emissions from the entire life cycle of olefin bottles, from the production of materials to bottle manufacturing, transportation and disposal.
Description
Target of this challenge:
We aim to reduce the amount of plastic consumption by 20% compared to conventional bottles.
One of the key factors to determine the weight of a bottle is compressive strength. It is known that plastic increases its specific stiffness by foaming. This feature allows a foamed-plastic bottle to have less weight for maintaining a certain level of specific stiffness. We will develop a foam extrusion blow molding technology for olefin bottles that will maximize the stiffness-enhancing effect of foaming, aiming to reduce bottle weight by 20 percent compared to the conventional bottle.
Hurdles to overcome in accomplishing the challenge:
First, the issue of economic rationality. While nitrogen gas itself is a clean, eco-friendly gas, using it as the blowing agent requires high pressure gas equipment and thus needs to take steps to lower its cost. We also need to prevent decline of productivity associated with the foam extrusion blow molding.
Second, deterioration of impact strength is expected as an adverse effect of foaming. This weakens the bottle's ability to protect contents, an essential function of a packaging container, and therefore measures to solve this issue are indispensable as well.
Specific actions:
Olefin bottles are generally produced using extrusion blow molding process. We will develop equipment to add nitrogen gas blowing agent applicable to the molding process, improve material properties, and advance foaming control method. We will also develop the contents that will take advantage of the foamed olefin bottle's performance and characteristics, thereby exploring a wider market for the bottle.
Impact when the challenge is accomplished:
This challenge would decrease the carbon emissions from the entire life cycle of the bottle, from the production of materials to bottle manufacturing, transportation and disposal, corresponding to degrees of bottle weight reduction. By using biomass plastics instead of petroleum-based materials, further reduction of carbon emissions can be expected.
Other Innovation Challenges Sustained-release water-soluble glass to contribute to blue carbon
Toyo Seikan Group Holdings, Ltd.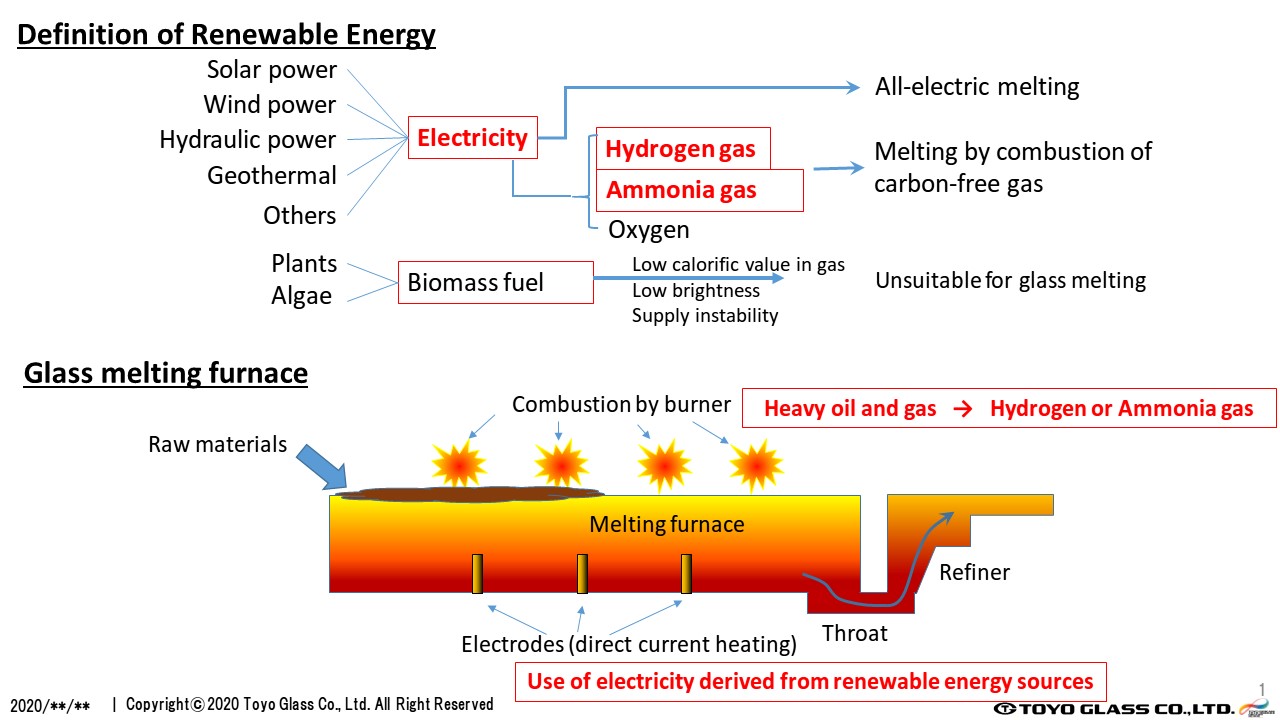 Utilization of recyclable energy for glass melting furnace
Toyo Seikan Group Holdings, Ltd. Weight reduction of metal container to aim for zero carbon emissions
Toyo Seikan Group Holdings, Ltd.
Similar Innovation Challenges