Energy saving by deep ultraviolet LED (UVC LED) for disinfection and challenge to mercury free society
Asahi Kasei Corporation
Outline
Currently, mercury lamps are widely used for disinfection. However, mercury lamps consume a large amount of power in addition to using harmful mercury. Regulations on mercury have also been strengthened due to the enactment of the Minamata Convention in 2017, and there are growing needs to replace mercury lamps to conserve energy and reduce environmental impact.
In such a background, the Asahi Kasei Group is developing UVC-LEDs (deep ultraviolet LEDs). In addition to having low power consumption, LEDs can turn on and off immediately when the power is switched on and off, and feature a high degree of freedom in irradiation owing to their compactness. Also, LEDs are environment-friendly because they do not use mercury. As this LED technology is entirely new, we think it will be a big challenge. We would like to innovate worldwide disinfection through UVC-LEDs which realize energy-saving and mercury-free society by technological development and great improvement of performance toward 2050.
Description
Irradiation by mercury lamps is widely used for disinfection. DNA of organisms has the property of strongly absorbing UVC (deep ultraviolet) light. When UVC light irradiates to bacteria and viruses, their DNA is destroyed, and growth can be suppressed. Mercury lamps are used for disinfection because they can emit UVC light peaking at 254nm. On the other hand, mercury lamps contain mercury, and their replacement is required from the viewpoint of environmental load. There had been no way to replace mercury lamps in the past, but new mercury lamps are starting to be replaced in part due to the development of UVC-LEDs that emit UVC light. The Asahi Kasei Group is advancing the development and commercialization of UVC-LEDs in order to realize the environment-friendly world.
The Asahi Kasei Group currently commercializes UVC-LEDs that emit UVC light with a peak wavelength of 265nm, which has the highest disinfection efficiency. However, the efficiency of light emission (wall-plug efficiency: WPE) relative to the power input is inferior compared to mercury lamps at present, and disinfection effect is insufficient to replace mercury lamps. The Asahi Kasei Group is developing technology to improve this efficiency.
UVC-LEDs are also characterized by their small size so that we can freely form the shapes of the irradiation units. Therefore, it is possible to efficiently irradiate objects with light by devising the irradiation unit, and three to five times efficiency of disinfection compared with a mercury lamp can be obtained in theory. The Asahi Kasei Group aims to realize LEDs that can exceed the sterilization efficiency of low-pressure mercury lamps by around 2025 by repeatedly devising the shapes of the irradiation units.
The number of low-to-medium pressure (4W-40W) mercury lamps for disinfection is about 13 million units now, and expected to increase by 1-3% per year in the future with global economic growth (Yole report 2018). These mercury lamps are expected to gradually be replaced by UVC-LEDs, and if we can improve efficiency of light emission (WPE) as planned, UVC-LEDs can replace nearly 100% low-pressure mercury lamps by around 2030. Moreover, all ultraviolet disinfection units (more than about 25 million units), including medium-pressure mercury lamps can be replaced by UVC-LEDs in 2050. In this case, power consumption of UVC-LEDs can be reduced to 1/3 of the power consumption by conventional mercury lamps, which is estimated to reduce power consumption by about 200,000kW per year. This reduction is equivalent to 1/5 to 1/3 of the power of coal-fired thermal power plant.
Replacement of mercury lamps with UVC-LEDs can also reduce mercury usage significantly. Currently, 5mg to 15mg of mercury is used per unit of mercury lamp. By replacing the UVC disinfection unit with LEDs in 2050, we will be able to reduce annual usage by about 250kg and cumulative use by 4.3 tons by 2050. It will contribute reduction of environmental load.
The Asahi Kasei Group conducts business activities with the policy of contributing to people and the planet (Care for People, Care for Earth). Establishing this UVC-LED technology and disseminating it worldwide are a big challenge to realize the Asahi Kasei Group Vision of "living in health and comfort" and "harmony with the natural environment" and to provide new value to society.
Other Innovation Challenges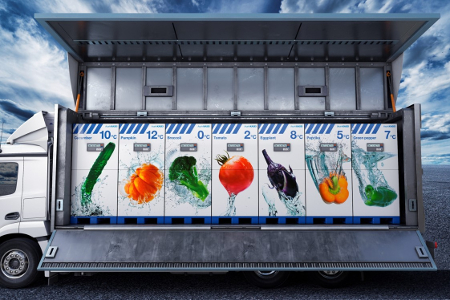 Challenge of low environmental effect transportation using high performance sealed box
Asahi Kasei Corporation
Development of Alkaline Water Electrolysis System for Affordable Green Hydrogen
Asahi Kasei Corporation
Similar Innovation Challenges